Art Book Publication Date: TBD
Monthly Newsletter: www.manzieri.com/newletter
Press Releases: www.manzieri.com/blog
Gallery: instagram.com/manzieriart
Email: Contact Page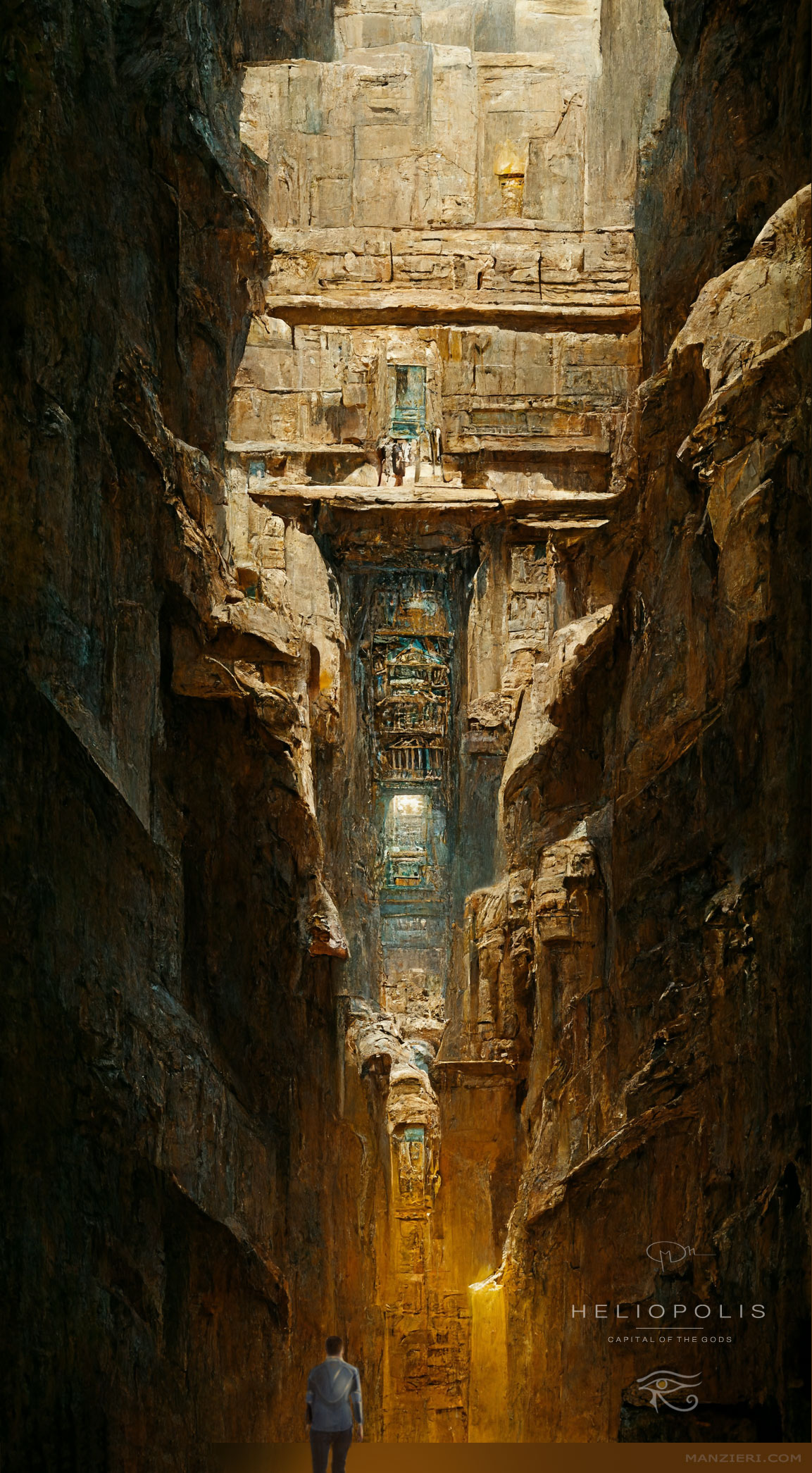 SYNOPSIS – During the initial stages of space colonization, an incredible discovery was made: Zarmina, a world of the Gliese 581 system, was covered with Egyptian monumental buildings of ineffable beauty! Under the ruins of a great city renamed Heliopolis, the survey team found the entrances to an immense underground city that was lost in a labyrinth of rocky gorges, rivers and caves. In the city's deepest and most hidden places, dozens of sumptuous palaces were identified that seem to have been inhabited by the Gods. At the beginning of the third millennium, the whole planet was declared a World Heritage Site and finally opened to tourist routes and to the unstoppable flow of pilgrims that continues today.
This guide distributed in our arm of the galaxy presents the fantastic reality of Heliopolis in 3211 A.D. It is absolutely not intended to replace the live experience. Thousands of pages would be needed to describe even a small part of Zarmina's architecture, which is still largely unexplored. The intent here is to inspire you to make this journey at least once in your lifetime. Divided into sections, the volume ranges from an overview of the modern tourist infrastructures financed by the corporations of the surrounding star systems – spaceports, hotels, places of interest – to the introduction of certain emblematic structures in the immense underground city. The appendix includes a selection of cards and paintings, taken from the National Gallery of Heliopolis to illustrate the mythical history of this phantom civilization, which disappeared so mysteriously.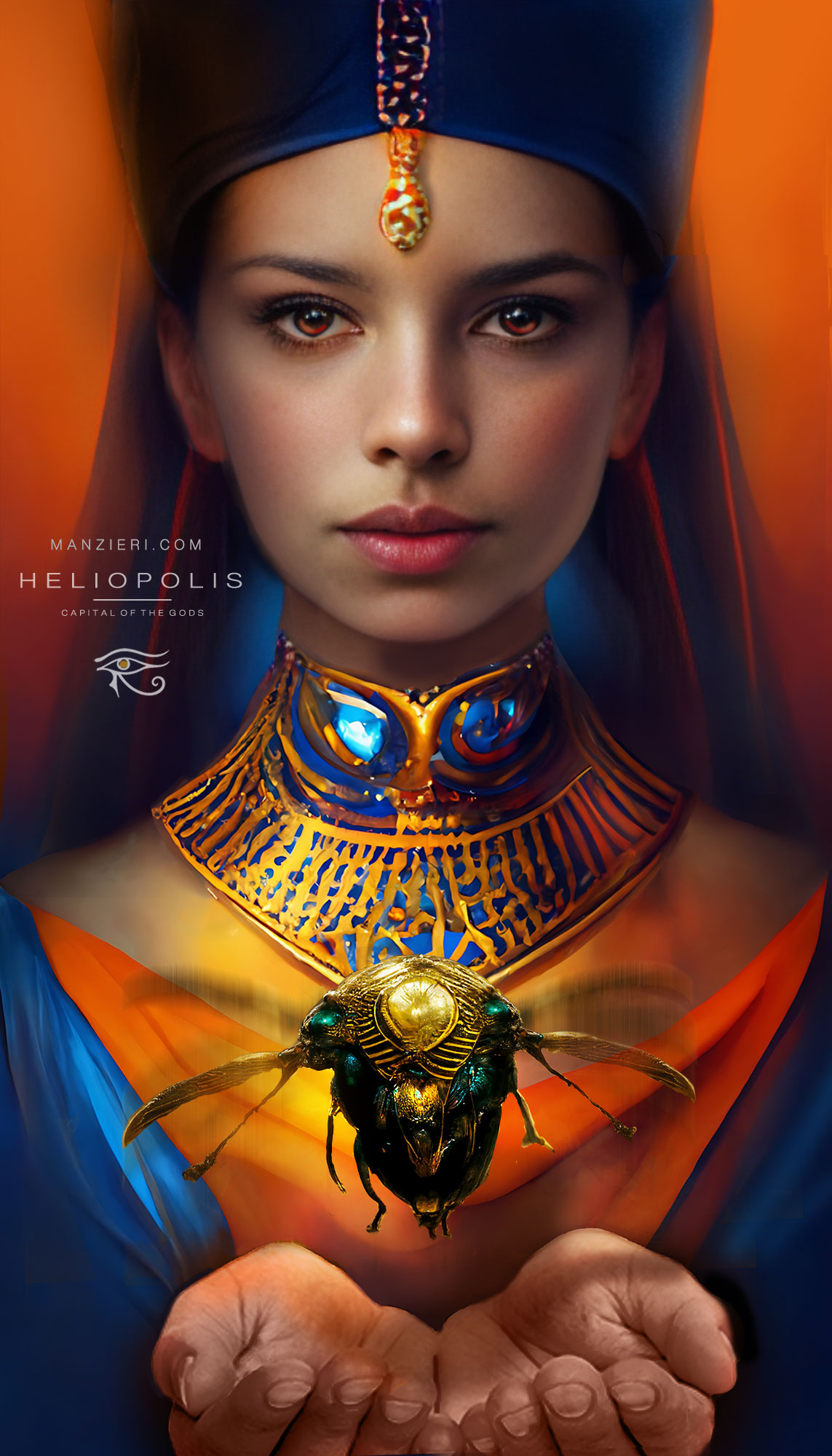 SINOSSI – Durante le fasi iniziali della colonizzazione spaziale, avvenne un'incredibile scoperta: Zarmina, un mondo del sistema Gliese 581, era disseminato di complessi monumentali egizi di ineffabile bellezza! Sotto le rovine di una grande città ribattezzata Heliopolis furono rinvenuti gli ingressi a una città sotterranea immensa che si perdeva in un labirinto di gole rocciose, fiumi e caverne; e nei suoi luoghi più profondi e reconditi vennero individuati decine di sontuosi palazzi che pare fossero stati abitati dagli Dei. Agli inizi del terzo millennio il pianeta venne dichiarato Patrimonio Universale dell'Umanità e finalmente aperto alle rotte turistiche e al flusso inarrestabile di pellegrini che prosegue tutt'oggi.
Questa guida distribuita nel nostro braccio di galassia presenta la realtà fantastica di Heliopolis nel 3211 A.D. e non intende assolutamente sostituire l'esperienza dal vivo. Per descrivere anche in minima parte l'architettura di Zarmina, in gran parte inesplorata, occorrebbero migliaia di pagine. L'intento è di ispirare a compiere almeno una volta nella vita questo viaggio. Suddiviso in sezioni, il volume spazia da una panoramica sulle infrastrutture turistiche moderne finanziate dalle corporazioni dei sistemi stellari circostanti – spazioporti, alberghi, luoghi di interesse –  fino all'introduzione di alcuni luoghi emblematici dell'immensa Città sotterranea. In appendice sono allegate una selezione di schede e dipinti tratta dalla Galleria Nazionale di Heliopolis, che illustrano la mitica storia di questa fantomatica civiltà scomparsa così misteriosamente.